How much is the initial franchise investment? Do I need to have restaurant experience? What's the restaurant franchise return on investment? Deciding which restaurant franchise is the best ROI for your money, your time and your future is a multi-faceted decision. Here at Freddy's Frozen Custard & Steakburgers, the answers to those questions are just as much steeped in the numbers as they are in your character and love for our brand.
According to Franchising.com, although the entry costs and ongoing expenses of getting into franchising may seem steep, it also costs money to start your own business. One of the advantages of choosing a franchised business is that you enter with your eyes wide open regarding start-up and future costs.
First, let's talk about the value of The Freddy's Way.
Everything we do, we do for the right reasons — The Freddy's Way — which has been the cornerstone of our success and what sets us apart from fast food franchises. The Freddy's Way is a solid, proven base of knowledge, training and hospitality that sets each new Franchise Owner up for success from the start.
"The Freddy's Way continues to drive growth, camaraderie, innovation and efficiencies, and that is priceless for our Franchise Owners…and everyone who touches our brand," says Scott Redler, Co-Founder and COO.
See why Freddy's is the best fast casual restaurant to own.
At the top of our list is your personality and experience.
LOVE for the Freddy's brand, food and culture
Strong background in operations, franchising or restaurant management preferred
Community-focused with a passion to help Team Members grow
Now, let's look at our restaurant franchise costs.
Initial investment: $640,552 – $2,077,046
Initial franchise fee: $25,000
Ongoing royalty fee: 4.5%
Ad royalty fee: 0.375%
More details on our financial qualifications.
Net worth of $850K+
Liquid assets of $250K-$800K
Shy on funds but full of drive?
Not everybody has the funds needed to invest in a Freddy's fast-casual franchise. But, you may have the passion, knowledge and restaurant experience that are important in building a successful restaurant franchise with us.
In order to give driven entrepreneurs the opportunity to join our brand, our team may decide to pair motivated operators who may not have the capital with another investor in their market who is not interested in being an operator. It's a win-win for everyone.

"Interested candidates who come in with a business plan get our attention as this really shows us their business acumen," adds Scott. "Many of our outstanding Franchise Owners did that on their own from the get-go and have multiple locations open today."
The big question. What about ROI?
This is a typical question we get about our restaurant franchise investment, which is understandable. However, the variables involved in getting to that bottom line are just too numerous to provide a firm answer to this question. We provide the resources so you can identify what potential ROI is available by connecting you with our current Franchise Owners. Our Franchise Family is always happy to share their stories and firsthand insights…it's part of the Freddy's hospitality.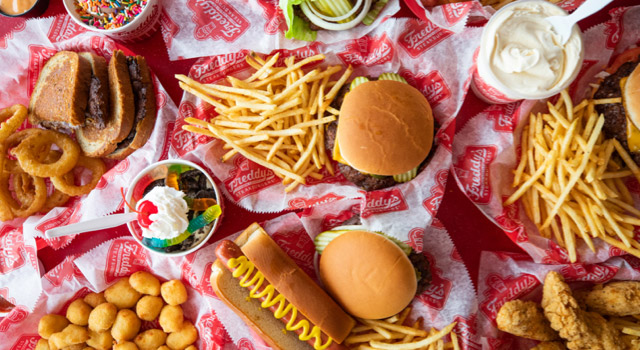 Our simple menu is a big draw for candidates. It fuels our $1.53M AUV* with a steady stream of Guests from lunch, dinner, mid-day and late-night desserts. With mobile ordering part of the Freddy's app and most locations offering delivery, we continue to grow revenue channels as one of the fastest growing fast casual restaurant chains.
See why to invest in a fast casual franchise.
Have more questions about owning the franchise America craves?
Take the first step and fill out the form below, and a Franchise Development Director will be in touch within one business day.
*Average Annual Gross Receipts of 29 company-owned and 338 franchised restaurants that were open for the entire 2019 fiscal year. This information appears in Item 19 of our Franchise Disclosure Document (FDD). Your individual results may differ. There is no assurance that you'll earn at the same rate.
Source: https://www.franchising.com/guides/the_cost_of_opening_a_franchise.html